Before you start planning your camping vacation – What are the main things you need for camping?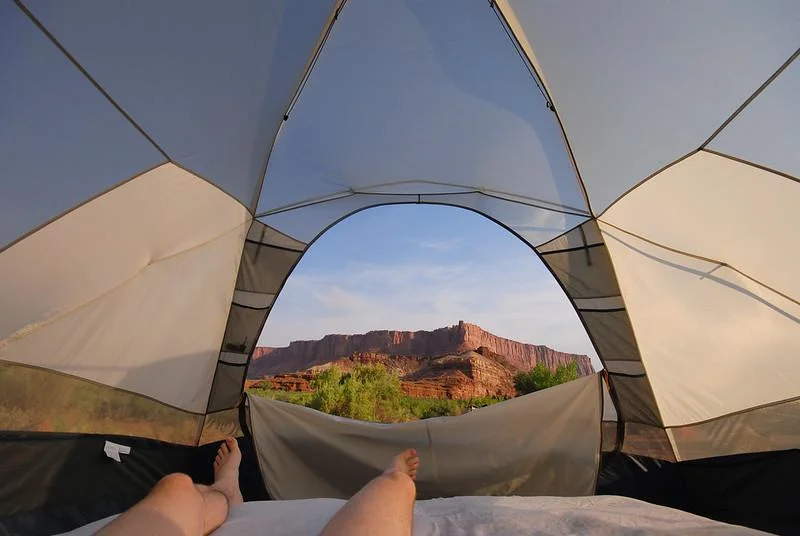 Camping is one of the most enjoyable pastimes available. Who wouldn't want to go away from the city, pitch a tent beneath the stars, and prepare a delectable supper over an open fire? Camping, whether at campsites, mountains, or on the river, is something I believe everyone should do at least once in their lives. However, if you've never been camping before, it might be overwhelming. I've put together this complete beginner's guide to help first-time campers.
Introduction To Camping For Beginners
This guide will teach you how to camp and offer you the resources you need to organize your first camping trip. Going camping with someone who is more experienced than you is the easiest way to improve your camping skills. If this is a possibility, go for it! But don't worry if you don't have anyone to accompany you. You should have all you need to get started after reading this tutorial.
How to Find Free Camping Spots
Finding free camping is a skill that takes time to master. Campers who are just starting out should stick to front country camping so they can stay close to their vehicles. I've discovered that novice campers prefer camping in national state parks.
As a result, I recommend searching for state parks near your home and then securing a campsite using their online reservation system. Depending on your destination, you may need to make a reservation in advance when considering different parks. If this is the case, make a reservation for a campground or a camping permit ahead of time.
The Best Time To Go Camping
There is no definitive answer to this question as it depends on personal preferences. Some people prefer to camp in the spring or summer when the weather is warm, while others prefer to camp in the fall or winter when the weather is cooler. Ultimately, the best time to go camping is whenever is most convenient for you.
How Long Should A Camping Trip Last?
The ideal length of a camping trip depends on a variety of factors, including the amount of planning that goes into it. The amount of time you spend camping will be influenced by your resources, as well as other aspects such as children and the purpose of your trip. Most people go camping for one or two days, but it may go as long as you like.
Benefits Of Camping (New Location)
There are many benefits to visiting a new location on a camping trip. Camping can provide a great opportunity to explore new areas and experience different cultures. It can also be a great way to bond with family and friends. Additionally, camping can be a great way to relax in nature.
Camping Essentials For Beginners
What are the main things you need for camping?
You will need to purchase some items for your camping trip, but I will walk you through the basics of what you will need. You can also print out a list of things you will need to remember to pack.
WHAT SHOULD YOU BRING? Make a list of what you think you'll need:
Sleeping Gear
When it comes to camping, one of the most important things to consider is your sleeping gear. After all, you want to be comfortable and have a good night's sleep while you're out in the great outdoors.
1. A good sleeping bag is essential for a comfortable night's sleep while camping.
2. A sleeping pad or air mattress will help to keep you warm and comfortable.
3. A pillow is a great way to support your head and neck while sleeping.
4. A blanket can be used to keep you warm or to cover your sleeping bag.
5. An air mattress is a great way to get a comfortable night's sleep while camping.
Read more: Sleeping Bags Under $100
Camping Lights And Torches
There are a few different types of camping lights and torches that you can choose from, depending on your needs. Flashlights are great for general use, while lanterns provide a more diffused light that is perfect for setting up camp or lighting a path. Headlamps are ideal for hands-free use, making them perfect for activities like hiking or fishing.
1. Flashlights: A flashlight is an essential piece of camping gear. It can be used for tasks such as finding your way around the campsite after dark, looking for lost items, or signaling for help.
2. Lanterns: A lantern is a great way to light up a campsite. Lanterns can be used to provide light for cooking, reading, or just relaxing around the campfire.
3. Headlamps: A headlamp is a great option for hands-free lighting. Headlamps can be used for tasks such as setting up camp in the dark, going for a night hike, or reading a map.
No matter which type of camping light you choose, be sure to pick one that is durable and weather-resistant. You'll also want to make sure it has a long battery life, as you don't want to be left in the dark in the middle of nowhere!
Read more: Headlamps For Camping And Hiking
Kitchen Essential Items List
What are the main things you need for camping?
If you are planning a camping trip, you will need to make sure you have all the essential kitchen items with you. This list will help make sure you have everything you need to make meals while camping. This includes
Outdoor Camping Comfort
When it comes to enjoying the great outdoors, comfort is key. And while there are a lot of ways to achieve comfort while camping, there are a few key items that can really make a difference.
1. Hammock: A hammock is a great way to relax and enjoy the outdoors. Not only does it provide a comfortable place to take a nap or read a book, but it can also help you avoid insects and other pests.
2. Camp Table: A camp table is a must-have for any serious camper. It provides a place to eat, work on projects, and play games. It can also be used as a makeshift bed if necessary.
3. Camp Fan: A camp fan can be a lifesaver on hot days. It will keep you cool and comfortable, and can also be used to dry wet clothes or towels.
4. Coffee Maker: A coffee maker is a must for any coffee lover. It will allow you to enjoy a hot cup of coffee in the morning, and can also be used to make hot chocolate or tea.
5. Firestarter: A firestarter is essential for any camping trip. It will allow you to start a fire for cooking or warmth, and can also be used to signal for help if necessary.
Toiletries Essentials (Camping / Hiking)
No matter where you go camping, you're going to need some essential toiletries. Here is a list of the most important toiletries to bring on your next camping trip:
1. Toilet paper: You'll need this for, well, you know. Make sure to bring enough to last the entire trip.
2. Baby wipes: These come in handy for a quick clean-up when there's no water around.
3. Hand sanitizer: This is a must-have for keeping your hands clean when there's no soap and water available.
4. Feminine hygiene products: For ladies, don't forget to pack your tampons or pads.
5. Sunscreen: Don't forget to protect your skin from the sun's harmful rays.
6. Bug spray: Nothing ruins a camping trip like being eaten alive by mosquitoes. Be sure to pack some bug spray to keep them at bay.
7. First aid kit: You never know when you might need a band-aid or some antiseptic cream. It's always better to be safe than sorry.
8. Soap: This is important for keeping yourself clean, especially if you're going to be camping in a remote location with no showers.
9. Toothbrush and toothpaste: Don't forget to pack your toothbrush and toothpaste so you can keep your pearly whites clean.
10. Towels: You'll need these for drying off after a swim or a shower. Be sure to pack enough for everyone in your group.
With these essential toiletries, you'll be prepared for anything on your next camping trip.
Safety Essential (Camping / Hiking)
When camping, it is essential to be prepared and know the safety requirements to have a fun and safe trip. Here is a checklist of essential safety items to bring on your next camping trip:
First-aid kit: This should include bandages, antiseptic, pain relievers, and any other necessary items.
Sunscreen: To protect your skin from the sun's harmful rays.
In addition to these items, it is also recommended to get a local field guide when visiting a new place. This will help you be aware of any potential dangers in the area. By following these safety tips, you can ensure that you have a fun and safe camping trip.
Read more: 10 Best First Aid Kits for Campin
Cleaning Supplies (Camping / Hiking)
The best camping cleaning supplies to keep your campsite clean and tidy.
So, what are the best camping cleaning supplies? Here are our top picks:
1. Biodegradable Soap: This soap is perfect for camping trips as it is gentle on the environment. It is also great for sensitive skin as it is made with natural ingredients.
2. Portable Toilet: This is a must-have for any camping trip. A portable toilet allows you to go to the bathroom without having to leave your campsite.
3. Trash bags: Trash bags are essential for keeping your campsite clean. They make it easy to collect and dispose of trash.
4. Dishwashing soap: This soap is specially formulated for washing dishes. It is gentle on your hands and will leave your dishes sparkling clean.
These are just a few of the best camping cleaning supplies on Amazon. With these supplies, you'll be able to keep your campsite clean and tidy, and enjoy your trip to the fullest.
Clothing For (Camping / Hiking)
What are the main things you need for camping?
There are a few key things to keep in mind when choosing what clothes to wear when camping.
First, consider the climate and weather conditions of your destination. It's always a good idea to pack extra warm clothing, even if you're camping in the summer.
Second, pack extra clothing and keep it dry. If it rains, you'll be glad you have some emergency rain gear.
Finally, choose camp shoes, boots, or sandals that are easy to put on and take off. With these tips in mind, you'll be sure to have a comfortable and enjoyable camping trip.
Bottoms (Camping / Hiking)
If you're planning a camping or hiking trip, you'll need to decide what kind of bottoms to wear. There are three main options: shorts, pants, or leggings. Each has its own advantages and disadvantages, so it's important to choose the right one for the conditions you'll be facing.
Shorts are a great choice for warm-weather camping and hiking. They'll keep you cool and comfortable in the heat, and you'll have plenty of freedom of movement.
Pants are a good option if you're expecting cooler weather or if you need more protection from the elements. They'll keep you warm and dry, and they'll also protect your legs from scratches and scrapes.
Leggings are a good middle ground between shorts and pants. They offer more protection than shorts, but they're still light and comfortable. They're also easy to move in, making them a good choice for active activities like hiking.
No matter which option you choose, make sure you pick a comfortable pair of shorts, pants, or leggings that will let you enjoy your camping or hiking trip to the fullest.
Shirts (Camping / Hiking)
There are a few different types of shirts that are great for camping and hiking.
1. Casual t-shirts are a great option for a comfortable shirt to wear while hiking. They are usually made of a breathable material, such as cotton, and will help keep you cool and comfortable while you are active.
2. Long-sleeve shirts are another great option for camping and hiking. They provide protection from the sun and can also help keep you warm in cooler weather. Long-sleeve shirts are typically made of synthetic materials, such as polyester, which dry quickly
Rain Gear (Camping / Hiking)
Be sure to pack the right rain gear to keep you dry and comfortable.
1. A good rain jacket is key to staying dry. Look for a jacket that is waterproof and breathable.
2. Rain pants will keep your legs dry and are a good idea if you will be hiking in wet conditions.
3. Rain Boots are essential to keeping your feet dry and comfortable.
Camping / Hiking Shoes or Boots
When planning a camping trip, be sure to pack the right footwear.
1. Hiking boots are a must if you plan on doing any hiking.
2. Sandals can be great for wearing around the campsite.
3. Be sure to pack a few pairs of socks to keep your feet warm and dry.
Getting To Your Camping Location
You may need to check in with a park office or visitor's center to obtain your permits or reservations, depending on the campground. Many parks are abandoning this practice and instead enabling campers to obtain an electronic version of the permit when making their reservation. Bring all of the essentials with you.
Setting Up Your Tent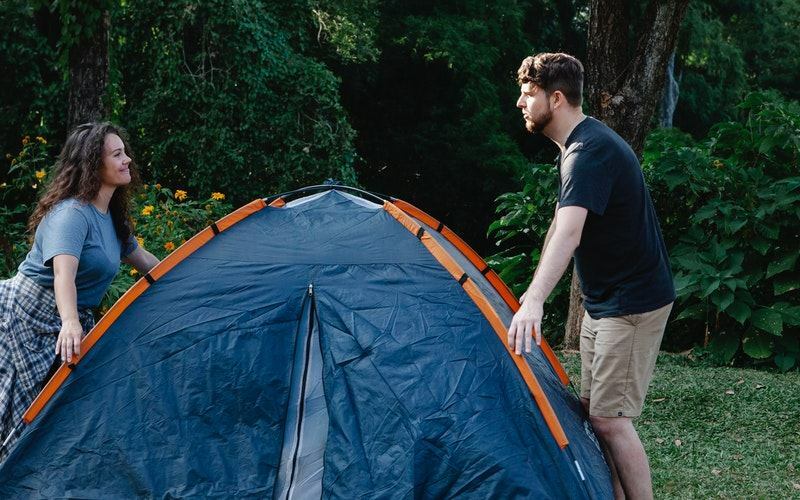 Nothing beats sleeping in a well-pitched tent in the wild outdoors. This article will teach you how to put up a tent for a good camping trip, even if you've never pitched one before.
You will need:
–Tent
To set up your tent:
-Find a level spot to put your tent.
-Lay out the tent.
-Put the poles in the loops on the tent.
-Push the poles until they are all the way up.
-Pull the bottom of the tent tight.
-Stake the tent down.
Practiced at Home
If you are a first-time camper or an experienced one, you should always test new camping gear at home before taking it on the trail. To make sure that everything is working properly, have your tent set up in your backyard for practice. 
Read more: How To Properly Set Up A Tent
How To Start A Good Campfire?
Things you need for camping – Starting a good campfire
First, you need a firestarter. This can be anything from a match to special fire-starting sticks. If you're using a match, strike it on the side of the matchbox. If you're using a fire-starting stick, light it with a match.
Tinder
Next, you need some tinder. This is any kind of dry, fibrous material that will catch fire easily. This can be things like dry leaves, small twigs, or even paper.
Kindling
Once you have your tinder, you need to add some kindling. This is slightly bigger pieces of wood than your tinder and will help the fire keep burning.
Fuel
Finally, you need some fuel. This is the big logs that will keep your fire going for a long time. Once you have your fuel, you can add it to the fire a little at a time, or all at once.
To start a campfire, you will need a firestarter, tinder, kindling, and fuel. First, use the firestarter to light the tinder. Then, add the kindling to the fire. Finally, add the fuel to the fire.
Cooking Over Open Fire Camping
What are the main things you need for camping
Cooking over a campfire is a fun way to cook your meals while you're camping. You'll need some special equipment like a cast-iron skillet and pot, and a Dutch oven. You'll also need a grill brush, some gloves, and a meat thermometer. Make sure to follow some safety procedures and tips to have a great time cooking over your campfire.
If you're cooking over an open fire while camping, it's important to keep your campfire confined. You can do this by spraying it with a couple of jets of water from a spray bottle as soon as you notice a stray flame or ember. Flare-ups can change the way your cookfire distributes heat, causing your food to cook unevenly.
Camping Without Leaving Any Trace
When we go camping, we must respect the environment and wildlife. This implies 'leaving no trace,' or leaving the location in the same condition as you found it (or leaving it better than you found it). Here are some of the highlights:
Plants, animals, cultural places, and artifacts should all be preserved for future generations to enjoy.
Reduce Campfire Impacts As Much As Possible.
Make use of a small camping stove. Although campfires are restricted in certain areas, stoves assist to reduce the environmental effect everywhere.
Please Treat Wildlife With Respect.
Feeding, chasing, or harassing wildlife is prohibited, and food should be hung well out of reach of bears.
Take Others Into Consideration.
Consider the impact of your actions on others. Other hikers may be bothered by loud noises, out-of-control dogs, cell phones, and radios, to name a few examples.
Plan Ahead Of Time And Be Prepared.
Learn everything you can about the region you'll be going to, including any rules or limitations. Always bring maps, appropriate clothes, equipment, food, and water with you. Keep your group to a maximum of ten people (this is needed in Wilderness and highly encouraged anywhere else).
Travel And Camp On Surfaces That Are Durable.
While trekking, stay on the route. Camp 200 feet from paths and water sources, or at locations that have previously been badly damaged (but make sure it's a legal site). Avoid visiting sites that are significantly harmed since your visit may cause greater damage.
Properly Dispose Of Waste.
Carry out what you bring in; bury human waste in a 4-8-inch-deep hole away from water, trails, and campgrounds.
CONCLUSION ON CAMPING FOR BEGINNERS.
I truly hope you've found this information to be useful and that you now feel ready to go on your first camping trip! Please leave a remark or send me a message if you have any queries on how to camp.
You might see affiliate links in this article. My affiliate links earn me a small commission at no extra cost to you. I am very grateful for your support. Read my complete disclosure policy to learn more.
What are the main things you need for camping
Camping is one of the most enjoyable pastimes available. Who wouldn't want to go away from the city, pitch a tent beneath the stars, and prepare a delectable supper over an open fire? Camping, whether at campsites, mountains, or on the river, is something I believe everyone should do at least once in their lives. However, if you've never been camping before, it might be overwhelming. I've put together this complete beginner's guide to help first-time campers.

---