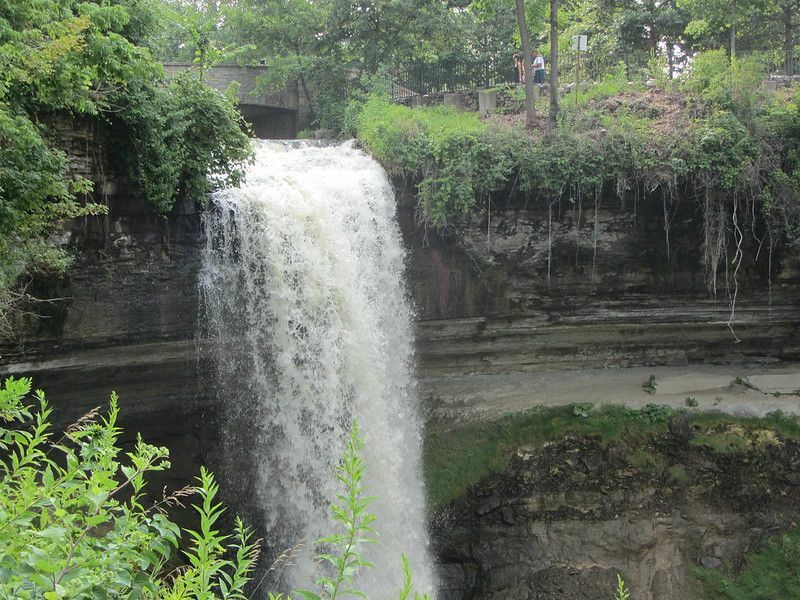 Related Article: 34 Attractions in Minneapolis
Minnehaha Park In Minneapolis Minnesota
Minnehaha Park is a world-class municipal park located in Minneapolis, Minnesota. The park was originally built in 1883 by renowned landscape architect Horace W.S. Cleveland and has since become a popular destination for both visitors and residents. The park is home to Minnehaha Falls and the lower portions of Minnehaha Creek, both of which are beloved natural features. In addition to these natural attractions, the park also boasts many amenities and facilities that make it a great place to visit for a day or an afternoon.
Minnehaha Park is a beautiful and historic 167-acre park located on the banks of the Mississippi River. The park is separated into two sections: the top portion, which has grassy open spaces, and the bottom section, which has been primarily preserved in its natural condition. Minnehaha Creek, which travels through the park and finally cascades over the falls, is also located in the upper area of the park.
The park is home to many different species of plants and animals, and the falls are a popular destination for both locals and visitors. In the summer, the park is a great place to cool off and enjoy the outdoors, and in the winter, the falls often freeze over, creating a stunning natural sculpture.
Whether you're looking to take a scenic stroll, enjoy a picnic, or simply take in the breathtaking views, Minnehaha Park is the perfect place to do it. So come on down and experience the beauty of Minneapolis for yourself!
General information
Park Address 4801 S Minnehaha Drive Minneapolis, MN 55417
Park Hours 6 Am-10 Pm
Get Direction
Park Features
Camping is one of the most enjoyable pastimes available. Who wouldn't want to go away from the city, pitch a tent beneath the stars, and prepare a delectable supper over an open fire? Camping, whether at campsites, mountains, or on the river, is something I believe everyone should do at least once in their lives.…

---
Similar Articles